Do a quick internet search for daily fantasy sports (DFS) strategies and we might see you three weeks later. There are countless ways to pick your lineups - from team stacks to studs and scrubs and everything in between. In this post we'll cover some of the key strategies used to create (good) AFL DFS line-ups (Note: I have used the Draftstars Round 1 $50K+ contest for my examples).
Read my beginner's guide to AFL DFS: an introduction, here.
STUDS AND SCRUBS
With this classic DFS strategy, you piece together a lineup using trusted, high-performing superstars (Studs) and pair them with bargain basement rookies (Scrubs). Due to salary cap restrictions, you can't stack your lineups entirely with studs. However, stocking up on scrubs provides the salary cap relief that you need. But be warned! Adopting this approach is extremely risky. Both your studs AND scrubs need to be carefully chosen. If your studs turn out to be duds, then your chances of cashing are ruined. Similarly, you need your scrubs to contribute something to your score if you're going to win. Comprehensive knowledge of rookies and players returning from injury is a must for this strategy.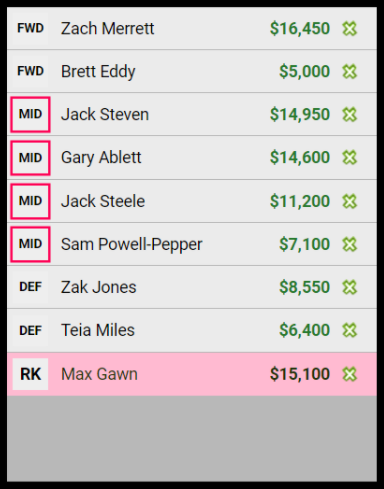 TEAM STACKS
Another high risk/reward strategy is stacking your lineups with players with favourable matchups. After a few rounds of a new season, the premiership contenders and the easy-beats starts to become clear. A savvy DFS player will take this knowledge and apply to lineups. The reward is clear: thrashings equals fantasy point bonanza! Yet the risk is also ever-present. Aussie's love an underdog and if there's upset win, say goodbye to your entry fee! Don't ignore value from the opposition or other games in the slate if it's there, but you need to largely target one team. For Round 1, I've identified Sydney as a stackable team.
THE MIDFIELDER'S MEDAL
Just like the Brownlow, many AFL DFS players believe midfielders have the best chance having high scoring games. Being around the ball for longer provides opportunities for tackles, handballs and clearing kicks. In contrast, defenders tend to only score well if they have a large number of marks and rebounding kicks. Forwards too can be high reward but high risk. A bag of goals can lead your team to glory (Mark + Kick + Goal = 12 pts). But a case of the goalkicking yips can tank your lineup. The solution? Search for midfielders who have been granted dual position status (that is, they are also included as defenders or forwards). A word of caution - don't be blinded by dual position status. Even though the defenders I've selected below are also midfielders, I won't necessarily include them in my lineup.
EVEN STEVENS
For many DFS players, the game is one of averages. These players like to spread their salary evenly across their lineups. They look for value - players with high floors (high minimum scores) and the ability to have the occasional break-out game. Rookies on the rise, out of form studs or players returning from injury often feature prominently in these lineups.
FINAL THOUGHTS
The more you play AFL DFS, the more you'll begin to experiment with different lineups and team-building strategies. Often, a mix of the strategies described above and lead you to the perfect time and glorious bundles of cash! Before you set your lineups, consider these finals thoughts:
Do your homework. Spend time getting to know the system and which players are solid DFS investments.
Consider team and individual match-ups.
Don't be blinded by your team bias. Your favourite player isn't necessarily a good fantasy scorer.
Beware of the expensive defender. Defenders are traditionally have the lowest ceilings in AFL DFS. A carefully chosen mid-priced defender can free up much needed salary cap space.
Consider whole team stats. The Demons didn't make the finals in 2016 but they were the 3rd on the list of highest team possessions per game.
Check Twitter once, check twitter twice, check twitter three times. There is nothing more frustrating than hearing about a late withdrawal when after lock-out.
Experiment and have fun!